Print Page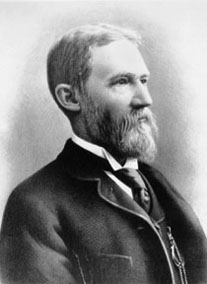 Image title
:
Sir Samuel Walker Griffith
Source
:
State Library of Queensland
Image ID
:
neg. no. 68165
Samuel Griffith
(1845–1920)
Premier of Queensland and a founder of Federation
Griffith came with his family to Australia from England. His father was a minister in the Congregational Church and sent him to good schools. He went to university and became a lawyer. He was very clever and wanted to be famous.
In politics, he was leader of the popular party supported by farmers and workers; his opponent was Thomas McIlwraith. They were both premiers in the 1880s and then, with strikes of the 1890s, the two rivals combined against the unions and the new Labor Party.
At the Federal Convention of 1891, Griffith was in charge of writing the constitution, which he did in clear, plain language. Changes were made at the next convention of 1897–98, but most of his words survived. He could not attend this convention because he had become Queensland's chief justice, a job he, as premier, gave himself.
In 1903 he became chief justice of the new Commonwealth High Court. In his rulings he preserved the powers of the states against the Commonwealth. He knew that was the founders' aim.
Find out more



unless otherwise indicated.
© 2016 Education Services Australia Ltd, except where indicated in Acknowledgements.
Conditions of use