Print Page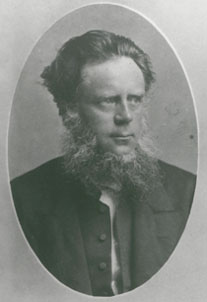 Image title
:
James Jefferis
Source
:
State Library of South Australia
Image ID
:
SLSA: B 47753
Creator
:
John Hood, photographer
James Jefferis
(1833–1917)
Blackmore had a lifelong interest in the way parliaments operated.
Jefferis was a minister in the Congregational Church. He came to South Australia when he was 26 and became minister in the North Adelaide Congregational Church. He was such a success that the biggest Congregational church in Sydney, in Pitt St, asked him to be their minister. He went there in 1877.
He was a good preacher and people from other religions came to hear him. He also gave lectures and wrote articles in newspapers to give his Christian view on the great issues of the day. In 1888, when the New South Wales Parliament was planning to ban Chinese migration, his church was crowded to hear his views. Jefferis agreed that some limits had to be placed on migration. He would not, however, accept that the Chinese were inferior, because 'we are all one blood in Christ'.
Jefferis saw Federation as Australia's destiny long before it became popular. He thought his God had intended the people on this continent to create a great new peaceful nation that would also spread God's word into the countries of the Pacific.
Find out more



unless otherwise indicated.
© 2016 Education Services Australia Ltd, except where indicated in Acknowledgements.
Conditions of use