Print Page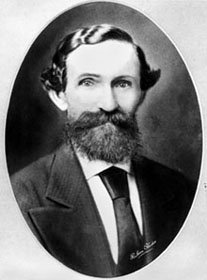 Image title
:
John Murtagh Macrossan
Source
:
State Library of Queensland
Image ID
:
neg. no. 68214
Creator
:
Poulsen Studio
John Macrossan
(1833–1891)
Miner, politician and federalist
Macrossan was a fiery Irish goldminer who came to the Victorian diggings in the 1850s. He became a miners' leader on the Queensland fields in the 1870s. In his campaign to support the miners, he got into trouble for horsewhipping the warden, the chief goldfields official at Ravenswood. He entered parliament and became a supporter of Thomas McIlwraith and a minister in his governments.
He was one of the Queensland delegates to the 1891 Federal Convention. Though he was not well educated, he made a great impression with his speeches. He was a supporter of the small colonies such as Queensland having the same number of senators as the large states. He said it was silly to think that in the Senate the small states would gang up on the two large states. He predicted that the Senate would divide on party lines. He turned out to be right, but most delegates did not see his point. He died during the sittings of the convention.
Find out more


unless otherwise indicated.
© 2016 Education Services Australia Ltd, except where indicated in Acknowledgements.
Conditions of use