Home
Print Page

'Federated Australia' drawing,
1900
This is a black-and-white pen-and-ink drawing by H Cotton of the New South Wales politician Sir Henry Parkes holding back a curtain to reveal a woman standing on an outline of Australia. Underneath her are the words: 'FEDERATED AUSTRALIA'. She is holding the 'Federation flag', waving above a rising sun on the horizon. At the bottom of the drawing is a quote from Parkes in 1889, in which he speaks of a vision for a federation of the Australian colonies. The drawing, measuring 32.2 cm x 26.0 cm, was published in Sydney's Daily Telegraph on 9 July 1900.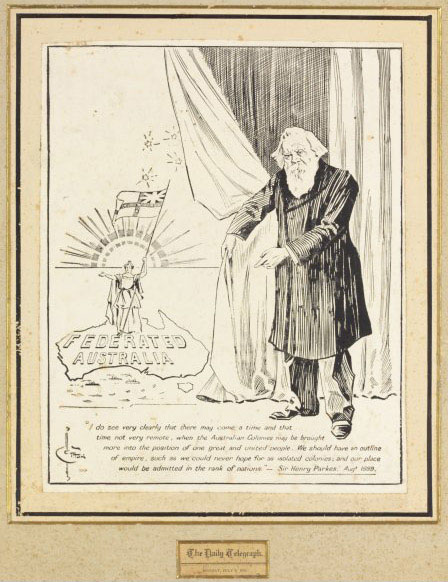 Acknowledgements
Credits:
Reproduced courtesy of National Library of Australia
Creator:
Herbert Cotton, illustrator, 1900
Daily Telegraph, publisher, 1900
Identifiers:
TLF resource R8045
National Library of Australia number nla.pic-an6222063
Source:
National Library of Australia, http://www.nla.gov.au/


unless otherwise indicated.
© 2016 Education Services Australia Ltd, except where indicated in Acknowledgements.
Conditions of use