Print Page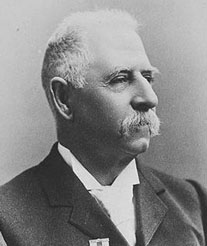 Image title
:
Edwin Blackmore
Source
:
National Library of Australia
Image ID
:
nla.pic-an21399820-50
Edwin Blackmore
(1837–1909)
Blackmore had a lifelong interest in the way parliaments operated.
Blackmore went with his parents from England to New Zealand and then joined his brother in South Australia in 1864. His brother got him a job in Parliament House, where he became Clerk (or chief official) to the House of Assembly and then to the Legislative Council. He was a good horserider, fought in the Maori Wars and was a leader of the Hunt Club in Adelaide.
The 1897–98 Federal Convention met first in Adelaide and Blackmore was appointed its Clerk. He went with the convention to its later meetings in Sydney and Melbourne. He kept all the records, including those of the secret committees that worked on the constitution in Adelaide. These were only discovered at Old Parliament House in Adelaide in 1970 and were then transferred to the National Archives in Canberra.
Blackmore had a very loud voice, so he was chosen to read the official documents when the Commonwealth came into being at an outdoor ceremony in Centennial Park in Sydney on 1 January 1901. In the new Commonwealth Parliament, Blackmore became the first Clerk of the Senate.
Find out more



unless otherwise indicated.
© 2016 Education Services Australia Ltd, except where indicated in Acknowledgements.
Conditions of use