Home
Print Page

Secret premiers' meeting,
1899
This is a black-and-white photograph showing the premiers of the six Australian colonies in 1899 at a meeting about the draft federal constitution, held at Parliament House in Melbourne from 29 January to 2 February. From the left they are Sir John Forrest (Western Australia), Charles Kingston (South Australia), George Reid (New South Wales), Sir George Turner (Victoria), James Dickson (Queensland) and Sir Edward Braddon (Tasmania).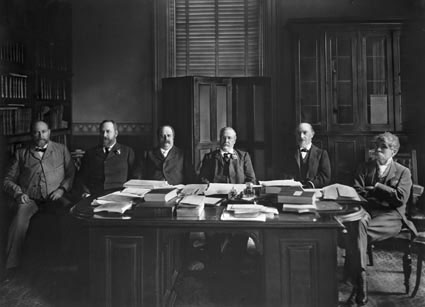 Acknowledgements
Credits:
From the collection of the National Archives of Australia
Creator:
Unidentified
Identifiers:
TLF resource R8040
National Archives of Australia number A1200, L16930
Source:
National Archives of Australia, http://www.naa.gov.au

Back


unless otherwise indicated.
© 2016 Education Services Australia Ltd, except where indicated in Acknowledgements.
Conditions of use