Print Page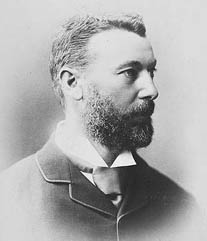 Image title
:
John Hackett
Source
:
National Library of Australia
Image ID
:
nla.pic-an21399820-43
John Winthrop Hackett
(1848–1916)
Newspaper owner and editor
Hackett was an Irish lawyer who wanted to do something more than practise law. He migrated to Australia, first to Sydney and Melbourne, and then to Perth, where he became a powerful man. He edited the most influential newspaper, The West Australian, and he became a member of the Western Australian Parliament.
Hackett opposed the demands of the many newcomers to Western Australia, who had been drawn by the gold rush, that parliament should be completely democratic. He wanted the Upper House, the Legislative Council where he sat, to go on being elected by people who owned property.
He attended the federal conventions of 1891 and 1897–98. He did not succeed in making the Commonwealth Government responsible to the Senate as well as to the House of Representatives. With his friend John Forrest, the premier, he was afraid that Western Australian industries would suffer under Federation, and would have preferred the colony to stay out of the Commonwealth. His newspaper reflected this view, but did finally recommend a
'Yes' vote.
He left as large a mark on Perth as Forrest did on the state; he was a founder of the zoo, the state library and the university.
Find out more



unless otherwise indicated.
© 2016 Education Services Australia Ltd, except where indicated in Acknowledgements.
Conditions of use