Print Page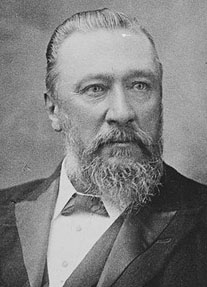 Image title
:
William Lyne
Source
:
National Library of Australia
Image ID
:
nla.pic-an21399820-8
William Lyne
(1844–1913)
Premier of New South Wales
Lyne was a tall, tough countryman from southern New South Wales, not very smart, but determined. In politics he represented the selectors in his district. He became the leader of the Protectionist Party, which wanted to help selectors by keeping cheaper wheat from other colonies out of New South Wales.
In the 1890s he was the leader of the opposition to George Reid's free-trade government, which was supported by the new Labor Party. Lyne persuaded Labor to switch support to him by offering to pass more laws to help workers. So he became premier in 1899, just before Federation. He himself had opposed Federation because he thought the small states should not have the same number of senators as the large.
John Hopetoun, the governor-general, chose him to be the first prime minister because he was premier of the oldest colony. Edmund Barton, Alfred Deakin and other protectionists refused to be ministers under a man who had opposed the cause they had worked so hard for. Lyne then recommended to the governor-general that he appoint Barton as prime minister. Barton in return made him a minister in his government.
Find out more



unless otherwise indicated.
© 2016 Education Services Australia Ltd, except where indicated in Acknowledgements.
Conditions of use