Print Page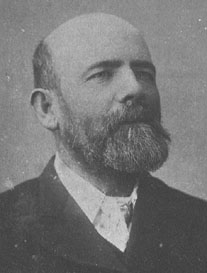 Image title
:
Edward Dowling
Source
:
Government Printing Office collection,
State Library of New South Wales
Edward Dowling
(1843–1912)
Secretary of the Federation League in New South Wales
Dowling started work in the public service as an office boy and became the official in charge of developing technical education. He wanted the sons of workers to have the chance to learn the skills to get a good job. He was born in Sydney and became a leading member of the Australian Natives Association (ANA), which was an organisation of young men born in Australia. It was a great supporter of Federation.
In 1893, when Edmund Barton formed the Federation League to work for Federation, Dowling became the secretary. At the referendums he was in charge of sending out flyers and organising speakers to travel through the country. He was the quiet backroom man who kept things running smoothly. It was a tough fight because there was a lot of opposition to Federation in New South Wales, particularly in Sydney.
Dowling kept all the letters and papers from the office of the Federation League and sent them to the library of the new Commonwealth Parliament. They are now in the National
Library, Canberra.
Find out more



unless otherwise indicated.
© 2016 Education Services Australia Ltd, except where indicated in Acknowledgements.
Conditions of use