Print Page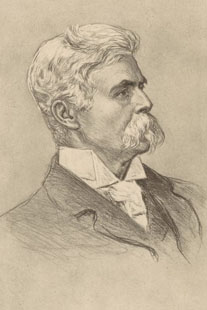 Image title
:
Sir Edward Braddon
Source
:
National Library of Australia
Image ID
:
nla.pic-vn3600357
Creator
:
Drawn by Percy F Spence,
engraved by Lowy, Vienna
Edward Braddon
(1829–1904)
Premier of Tasmania, and a federalist
Braddon was a tall, elegant English gentleman, who spent many years in India as one of the public servants running Britain's empire. At the age of 50 he came to Tasmania, and took up a farm in the north-west. Soon he was in parliament and a minister. He was premier from 1894 to 1899. He chaired the meeting of premiers in Hobart in 1895 that decided to organise a new federal convention elected by the people.
He was easily elected to the 1897–98 Federal Convention. Braddon wanted Tasmania to join a federation, but was worried that it would not have enough funds when the new Commonwealth took over the collection of customs duties from the colonies. He made sure that a rule was inserted into the constitution – a rule that the Commonwealth would have to return three-quarters of the duties it collected back to the states. Some people did not like this, because it meant the Commonwealth had to set quite high duties. They called this 'Braddon's Blot'. At the premiers' conference in 1899, the rule was changed so that it would operate for only ten years.
Braddon was elected to the first Commonwealth parliament.
Find out more



unless otherwise indicated.
© 2016 Education Services Australia Ltd, except where indicated in Acknowledgements.
Conditions of use