Print Page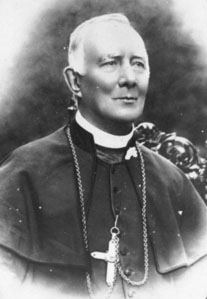 Image title
:
Cardinal Patrick Moran
Source
:
State Library of Queensland
Image ID
:
neg. no. 57131
Patrick Moran
(1830–1911)
Catholic cardinal and supporter of Federation
Moran came from Ireland to be Catholic Archbishop of Sydney in 1884. He worked hard to strengthen the church and, though Catholics were a minority, he hoped for the day when the Protestant churches would disappear and Australia would become a Catholic country. In 1885, Moran was made cardinal.
He was a supporter of Federation and spoke at the Bathurst People's Convention of 1896. The federalists were very pleased to have the support of the leader of the Catholic church. But when he stood for election to the 1897–98 Federal Convention, Protestants were very upset. They saw it as a sign that the Catholics wanted to extend their influence. They organised a movement to keep the cardinal from being elected. They issued a 'ticket' of ten names (including one Catholic) and told all Protestants to vote for it. They succeeded: the cardinal was not elected.
On 1 January 1901 Moran refused to take part in the new Commonwealth's celebratory procession through the streets of Sydney. He said that as a cardinal he should come before the Anglican (Church of England) archbishop. The government did not agree, so he watched the procession from a stand outside his cathedral.
Find out more



unless otherwise indicated.
© 2016 Education Services Australia Ltd, except where indicated in Acknowledgements.
Conditions of use