Print Page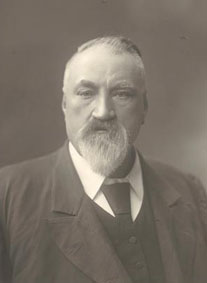 Image title
:
Thomas Playford
Source
:
National Library of Australia
Image ID
:
nla.pic-an23355903
Creator
:
Hammer & Co.
Thomas Playford
(1837–1915)
Premier of South Australia and an Australian nationalist
Playford came with his family from England. His father was a minister of religion who refused to let his eldest son study law, which he thought was the devil's business. Instead the younger Playford established a successful fruit orchard in the Adelaide Hills. Unlike the clever city lawyers, he made slow progress in politics, beginning in local government before moving to parliament. But he was a very able man, plain-spoken and honest, who became a government minister and was twice premier (1887–89, 1890–92).
He attended the 1890 Federal Conference called by Henry Parkes. Playford, like many others, wondered why Parkes was suddenly interested in Federation and criticised him openly. Playford said politicians could not create a movement for Federation; Parkes said all great movements had a great man as their leader. At the 1891 Federal Convention, Playford supported a limitation on the Senate's powers over the Budget, which the big colonies insisted on.
He did not attend the 1897–98 Convention because he was the colony's representative in London. He was elected to the Commonwealth Senate in 1901 and served as a minister under Alfred Deakin.
Find out more



unless otherwise indicated.
© 2016 Education Services Australia Ltd, except where indicated in Acknowledgements.
Conditions of use