Print Page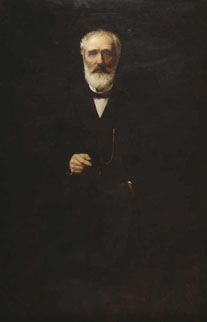 Image title
:
Sir James Service
Source
:
State Library of Victoria
Creator
:
George Folingsby, artist
James Service
(1823–1899)
Premier of Victoria, and a federalist
Service came from Scotland to Melbourne in the gold rushes. He made money by importing goods like tea, matches and kerosene. In politics he was at first a democratic reformer, but he did not agree with the reformers when they supported duties on imported goods or when they broke the constitutional rules. He became a leader of the Constitutionalists. After years of conflict, the two sides came together in the 1880s, with Service as premier of Victoria and Alfred Deakin as his deputy.
In 1883 France looked as if it would take over the islands of the New Hebrides (now Vanuatu) in the Pacific. Service led a campaign for joint action by the colonies, to persuade Britain to stop the French. Service would have proceeded to make a federation but New South Wales was not interested. The result was the formation of a weak Federal Council, which New South Wales and South Australia did not join.
Service spoke at the banquet for the 1890 Federal Conference in Melbourne, but he was too ill to take further part in the Federation movement.
Find out more



unless otherwise indicated.
© 2016 Education Services Australia Ltd, except where indicated in Acknowledgements.
Conditions of use