Print Page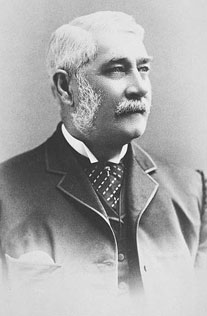 Image title
:
James Steere
Source
:
National Library of Australia
Image ID
:
nla.pic-an21399820-41
James Steere
(1830–1903)
Western Australian politician and federalist
Steere was born into a wealthy family in England that had owned a large landed property for centuries. In 1860 he came to Western Australia because his younger brother had settled there. He married a beautiful Perth girl from a good family and settled in the south. There he became, like the English landowners, a father-figure to the local community. Steere became the community's member in the Legislative Council, the body that ruled with the governor before responsible government.
When responsible government was established in 1890, some thought Steere might be the first premier, as he was well experienced in government and highly respected. Instead, John Forrest became premier and Steere gave him his support – but
not on all matters.
He was in favour of Federation and was a delegate from Western Australia to the Federal Council. He attended both the 1891 and 1897–98 federal conventions. Like Forrest, he had doubts about whether joining Federation would damage Western Australia, as it could not compete with products from the east. However, when Forrest decided to hold a referendum, Steere supported a 'Yes' vote.
Find out more



unless otherwise indicated.
© 2016 Education Services Australia Ltd, except where indicated in Acknowledgements.
Conditions of use