Print Page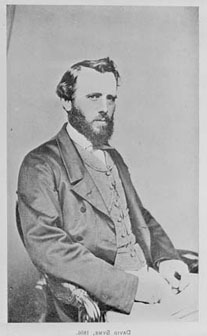 Image title
:
David Syme
Source
:
From the collection of the National
Archives of Australia
Image ID
:
GA1200, L18584
David Syme
(1827–1908)
Newspaper editor and publisher
Syme left Scotland to dig for gold in California and, having failed there, came in 1852 to Victoria. After a few years he became part-owner of The Age newspaper, and in 1860 its editor. The paper supported the democratic reformers in politics, and Syme himself became very powerful. A premier would make sure he had Syme's support before introducing a new policy or appointing a new minister.
In The Age Syme provided the best arguments for protection in his colony (the policy of putting duties on imported goods to give an advantage to Victorian factories and farms). Because he believed so strongly in protection, Syme was worried about combining with New South Wales in a federation, because that colony followed a policy of free trade.
When the elections for the 1897–98 Federal Convention were held, The Age told its readers to vote for the candidates it liked – and all were elected. Syme wanted the constitution to say that the new Commonwealth could not take away the duties that protected Victorian industry. Alfred Deakin tried to achieve this and failed. Syme was ready to urge a 'No' vote at the referendum but Deakin persuaded him to support the 'Yes' vote for Federation instead.
Find out more



unless otherwise indicated.
© 2016 Education Services Australia Ltd, except where indicated in Acknowledgements.
Conditions of use