Home
Print Page

Inauguration of the Commonwealth of Australia,
1901
This is a photograph of Australia's first Governor-General, Lord Hopetoun, taking his oath of office at the inauguration of the Commonwealth of Australia on 1 January 1901 in the Federation Pavilion at Centennial Park, Sydney, New South Wales. Next to Lord Hopetoun are Sir Edmund Barton and the other members of Australia's first federal ministry.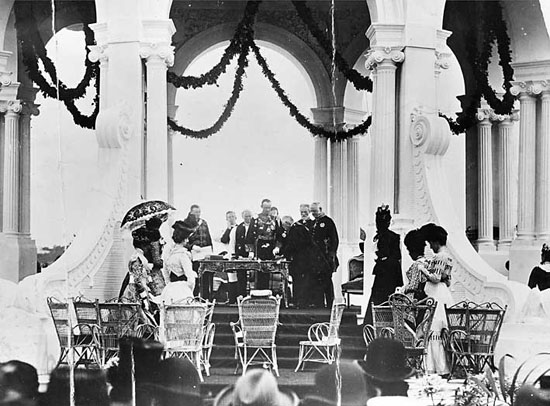 Acknowledgements
Credits:
From the collection of the National Archives of Australia
Creator:
'Punch' magazine, publisher, 1901
Identifiers:
TLF resource R2100
National Archives of Australia number A1200, L83907
Source:
National Archives of Australia, http://www.naa.gov.au

Back


unless otherwise indicated.
© 2016 Education Services Australia Ltd, except where indicated in Acknowledgements.
Conditions of use