This Teacher idea describes how a Chinese language teacher used the Character catalogue and associated learning objects, with their highly visual interface and interactivity, to convey how Chinese characters are constructed from basic components such as form, shape, structure, stroke order, sound and meaning.
Philip Wilson believes that introducing these basic components is fundamental to engaging learners in the concept of a character-based script and that good learning is often a matter of being challenged. For him, the Character catalogue and the related TLF learning objects, which put these components into game-like interactive learning tasks, are a real asset. 'Each learning object stimulates the students to think about form, function and internal structure and they are excellent sources for further teaching and learning.'
Philip uses data projection for whole-class demonstration of, and discussion about, the Character catalogue and other online content, switching to the whiteboard for further illustration when necessary. He also books a computer lab with 1:1 computer access when needed. In the lab environment, students work individually or in pairs on a range of learning tasks – using well-chosen internet sites for learning Chinese, as well as the TLF objects. All of the TLF Chinese 'Cracking the code' series of learning objects have been loaded onto the school intranet and Philip has asked his year 8 students to work through them at their own pace.
Students enjoy doing the tasks but, as Philip warns, fun should not be the end game. The acquisition of new knowledge and understanding must remain fundamental when ICT is used for teaching and learning.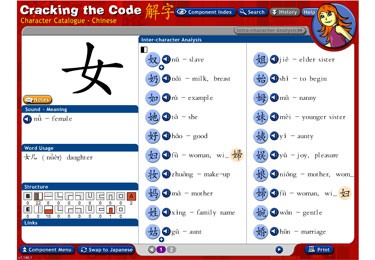 'Each learning object stimulates the students to think about form, function and internal structure ...'
Philip Wilson,
Marryatville High School, South Australia
Curriculum area
Languages other than English
Year level
3–12
Focus
Analysis of Chinese characters.
Learning objectives
Students analyse Chinese compound characters by breaking compound characters into basic components using lists of characters which share common components.
Students analyse the relationships between form, sound and meaning in Chinese characters.
The resources listed below are related to this Teacher idea. Click on the links below to view the resources.
(25 resources)

The [email protected] Federation (TLF) digital curriculum resources
Learning objects
Title/Description
Cracking the code: Chinese character catalogue

Cracking the code: Chinese character catalogue

TLF ID L891

Search for characters using their reading, stroke number or meaning.

© Curriculum Corporation

Stroke dig: level 1 (Chinese)

Stroke dig: level 1 (Chinese)

TLF ID L909

Students restore stone tablets and character strokes from a dig site. They separate the tablets and notice that each has the faded outline of a Chinese character.

© Curriculum Corporation

Stroke dig: level 2 (Chinese)

Stroke dig: level 2 (Chinese)

TLF ID L1168

Students restore stone tablets and character strokes from dig sites. They sort the strokes into stroke types according to their shape and rebuild the characters by using the sorted strokes in the right order.

© Curriculum Corporation

Stroke dig: level 3 (Chinese)

Stroke dig: level 3 (Chinese)

TLF ID L2575

Students restore stone tablets and character strokes from dig sites. They separate the tablets and sort the strokes into stroke types according to their shape. Students rebuild the characters by using the sorted strokes in the right order and discover the meaning and sound of the characters.

© Curriculum Corporation

Stroke dig: series description

Stroke dig: series description

Read about the full series of 'Stroke dig' learning objects.

© Curriculum Corporation

Radical hunt: island hunt (Chinese)

Radical hunt: island hunt (Chinese)

TLF ID L470

Students explore Ibis Island and search for Chinese compound characters that share a common radical. They discover the related meanings of the characters in order to see the rare crested ibis. Students use a character detector to roll over the spot where a character is hidden to find its sound and meaning. Each location has a common radical. Students find all 20 characters at four locations and sort the characters according to their radicals.

© Curriculum Corporation

Radical hunt: school hunt (Chinese)

Radical hunt: school hunt (Chinese)

TLF ID L471

Students explore four locations within a school. Using a camera tool, students engage in an online scavenger hunt for Chinese characters encountering unique vocabulary to match each location. The vocabulary selected highlights certain radicals that form the characters, enabling students to understand the relationship between parts of Chinese characters and their meanings.

© Curriculum Corporation

Radical hunt: series description

Radical hunt: series description

Read about the full series of 'Radical hunt' learning objects.

© Curriculum Corporation

Stampede: balloon stampede (Chinese)

Stampede: balloon stampede (Chinese)

TLF ID L469

Students look at the structure of Chinese characters appearing on a series of balloons. They classify the structure of each character. Correct answers will pop the balloons. Students learn that a combination of characters is called a structure.

© Curriculum Corporation

Stampede: kite stampede (Chinese)

Stampede: kite stampede (Chinese)

TLF ID L707

Students look at the structure of Chinese characters appearing on a series of kites. They classify the structures of each character. Correct answers will release the kites. They learn the first six structures and build their knowledge of character components and structures by checking meanings and spoken examples.

© Curriculum Corporation

Stampede: sushi stampede (Chinese)

Stampede: sushi stampede (Chinese)

TLF ID L709

Students look at the structure of Chinese characters appearing on a sushi train. They break up each character into two sides and classify its structure, then continue to break up the character until there are only two components remaining. Correct answers will earn some sushi to eat.

© Curriculum Corporation

Stampede: series description

Stampede: series description

Read about the full series of 'Stampede' learning objects.

© Curriculum Corporation

Quiz show: wheel of discovery: level 1 (Chinese)

Quiz show: wheel of discovery: level 1 (Chinese)

TLF ID L610

Students make compound words from a range of sounds and meanings. They use the meanings of the individual characters to work out the meaning of each compound word.

© Curriculum Corporation

Quiz show: wheel of discovery: level 2 (Chinese)

Quiz show: wheel of discovery: level 2 (Chinese)

TLF ID L1330

Students make compound words from a range of sounds and meanings. They use the meanings of the individual characters to work out the meaning of each compound word.

© Curriculum Corporation

Quiz show: pick a box: (Chinese)

Quiz show: pick a box: (Chinese)

TLF ID L623

Students deduce the composition of compound words by relating the meanings of individual characters to the meaning of a compound word. Students explore the sound and meaning relationships between compound words that share the same key character.

© Curriculum Corporation

Quiz show: series description

Quiz show: series description

Read about the full series of 'Quiz show' learning objects.

© Curriculum Corporation

Amazing characters: level 1 (Chinese)

Amazing characters: level 1 (Chinese)

TLF ID L861

Students solve word puzzles related to matching pairs of Chinese characters to find a way through two mazes (a cave and a palace).

© Curriculum Corporation

Amazing characters: level 2 (Chinese)

Amazing characters: level 2 (Chinese)

TLF ID L1043

Students solve word puzzles related to matching pairs of Chinese characters as they find a way through two mazes (a garden and a cave).

© Curriculum Corporation

Dragon temple: level 1 (Chinese)

Dragon temple: level 1 (Chinese)

TLF ID L466

Students solve word puzzles to find their way through ancient temple grounds to a hidden treasure room. They identify components of Chinese characters and fit them together in the right order. They notice that characters are often formed from two or more basic characters.

© Curriculum Corporation

Dragon temple: level 2 (Chinese)

Dragon temple: level 2 (Chinese)

TLF ID L1040

Students solve word puzzles to find their way through ancient temple grounds to a hidden treasure room. They identify components of Chinese characters and fit them together in the right order. They notice that characters are often formed from two or more basic characters.

© Curriculum Corporation

Dragon temple: series description

Dragon temple: series description

Read about the full series of 'Dragon temple' learning objects.

© Curriculum Corporation

Code breaker (Chinese)

Code breaker (Chinese)

TLF ID L1161

Students recognise well-formed and poorly formed characters according to stroke length, angle and proportion.

© Curriculum Corporation

Code breaker: learning object description

Code breaker: learning object description

Read the description of the 'Code breaker' learning object.

© Curriculum Corporation

Font cubes: nine cubes (Chinese)

Font cubes: nine cubes (Chinese)

TLF ID L2761

Students solve word matching puzzles and notice that the same character may look slightly different in different fonts.

© Curriculum Corporation

Font cubes: spinning cubes (Chinese)

Font cubes: spinning cubes (Chinese)

TLF ID L2762

Students select characters that match the character displayed. They choose from nine spinning cubes that feature three different fonts. The characters can be matched vertically, horizontally or diagonally.

© Curriculum Corporation

Font cubes: message cubes (Chinese)

Font cubes: message cubes (Chinese)

TLF ID L2763

Students examine four characters that make up a phrase with a hidden meaning. To solve the puzzle, students match the characters in each column to the character that appears in the top row.

© Curriculum Corporation

Font cubes: series description

Font cubes: series description

Read about the full series of 'Font cubes' learning objects.

© Curriculum Corporation

Trailblazer: level 1 (Chinese)

Trailblazer: level 1 (Chinese)

TLF ID L2496

Students identify the correct meaning of Chinese compound words by following a trail through underground tunnels to discover hidden treasure and unlock a series of doors by solving compound word puzzles.

© Curriculum Corporation

Trailblazer: level 2 (Chinese)

Trailblazer: level 2 (Chinese)

TLF ID L2497

Students identify the correct Chinese compound word from its English meaning by following a trail through underground tunnels to discover hidden treasure and unlock a series of doors by solving compound word puzzles.

© Curriculum Corporation

Trailblazer: level 3 (Chinese)

Trailblazer: level 3 (Chinese)

TLF ID L2498

Students identify the missing character in a compound word after being given its meaning by following a trail through underground tunnels to discover hidden treasure and unlock a series of doors by solving compound word puzzles.

© Curriculum Corporation

Trailblazer: series description

Trailblazer: series description

Read about the full series of 'Trailblazer' learning objects.

© Curriculum Corporation

Gourmet order (Chinese)

Gourmet order (Chinese)

TLF ID L628

Students compare a handwritten note with a printed menu to place an order. Students need to observe carefully the differences between the handwritten and printed forms to select the correct items.

© Curriculum Corporation

Matching characters (Chinese)

Matching characters (Chinese)

TLF ID L930

Students identify matching characters from sets of similar characters in a series of activities that use characters of increasing complexity.

© Curriculum Corporation

Matching characters: series description

Matching characters: series description

Read about the full series of 'Matching characters' learning objects.

© Curriculum Corporation
(1 resource)

Ideas in action
Ideas in action
Title/Description
Teacher reflection

Teacher reflections

Read Philip Wilson's reflections on his experience teaching Chinese characters to his class. These reflections were taken from the report titled 'An investigation into the take-up and use of TLF digital content for Chinese, Japanese and Indonesian: Projects 1 and 2' published by The [email protected] Federation 2007.

© Curriculum Corporation