Overview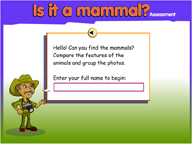 This guide is intended for use with
Animal search: is it a mammal: assessment
(L9176). It aims to help you interpret the student report generated by that object. Its sections relate to tasks in that report.
There are four objects in the
Animal search
assessment series. Depending on the needs of the student and the aspects covered in class, it may only be necessary to complete one of the objects rather than all four.
In this series, for simplicity and consideration of the student's stage of learning, vertebrates that include birds, mammals, fish, reptiles and amphibians are referred to as 'animal groups'. The scientific equivalent is 'class': for example, a whale is a vertebrate of the class Mammalia.
Here are some key details about
Animal search: is it a mammal: assessment
.