M008908
Sea surface information: datasets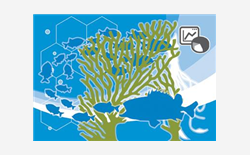 Description
This website contains datasets for sea-surface temperatures, the presence of chlorophyll and turbidity. The data are displayed on an interactive colour-coded map, with query, transect and time series buttons. The images created can be saved and the data returned can be downloaded. The page also contains links to related marine research articles.
Acknowledgements: Copyright Education Services Australia Ltd.
Key learning objectives

Students select datasets related to environmental factors.
Students pose their own questions for investigation.
Students collect data for further analysis, considering trends and identifying relationships between factors.
Educational value

The Australian Institute of Marine Science (AIMS) monitors sea-surface temperature, collecting these data since 1987. Marine life is sensitive to changes in sea water temperature. AIMS research has shown that when temperatures remain high for some time, there is an increase in the frequency of mass coral bleaching, coral disease and in plagues of crowns-of-thorns starfish.
The satellite observing system data from this website provides a daily update for several factors over a large area of ocean off the Queensland coast. As well as sea-surface temperature, data on chlorophyll a concentration are available: the abundance of chlorophyll a provides an indication of the presence of phytoplankton. Data are also available for the diffuse attenuation coefficient, which gives an approximation of the level of turbidity of the water. Turbidity can increase when there is run-off of agricultural materials from the mainland.
AIMS works in the area of tropical marine science. Its research findings help to inform the best ways to support and manage tropical marine environments. The Great Barrier Reef World Heritage Area and the Ningaloo Marine Park in Western Australia are two of the main focus areas.
Year level

5; 6; 7; 8; 9
Topics

Datasets
Chlorophyll
Turbidity
Time series
Learning area

Science
Strand

Science
Rights

© Education Services Australia Ltd 2011 (except where otherwise indicated). You may copy, communicate and adapt this metadata for non-commercial educational purposes provided you retain all acknowledgements associated with the material.