M008909
Weather observation: datasets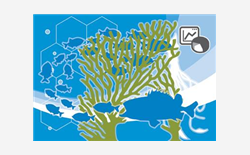 Description
This website contains datasets for weather including humidity, water temperature, winds and air pressure collected at marine sites. The collection points are displayed on an interactive coloured map. Historical weather data are available. Graphs can be created and downloaded. The page also contains links to web cameras at marine sites.
Acknowledgements: Copyright Education Services Australia Ltd.
Key learning objectives

Students interrogate datasets related to aspects of the weather.
Students pose their own questions for investigation.
Students collect data for further analysis, considering trends and identifying relationships between factors.
Educational value

The Australian Institute of Marine Science (AIMS) has monitored aspects of the weather at weather stations for more than 20 years, with data being sent back to AIMS headquarters every 30 minutes. The weather stations are solar powered. AIMS is planning to upgrade these stations and to monitor more aspects of the weather in the future.
The weather data collected are used for research projects, including projects that aim to better understand marine ecosystems and processes. The data can also assist scientists to predict how the marine ecosystems might be affected by global changes such as climate change.
AIMS works in the area of tropical marine science. Its research findings help to inform the best ways to support and manage tropical marine environments. The Great Barrier Reef World Heritage Area and the Ningaloo Marine Park in Western Australia are two of the main focus areas.
Year level

5; 6; 7; 8; 9
Topics

Datasets
Weather
Humidity
Temperature
Winds
Air pressure
Learning area

Science
Strand

Science
Rights

© Education Services Australia Ltd 2011 (except where otherwise indicated). You may copy, communicate and adapt this metadata for non-commercial educational purposes provided you retain all acknowledgements associated with the material.