M008910
Chlorophyll monitoring program: datasets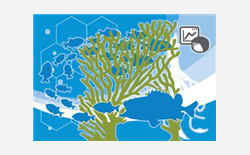 Description
This website contains datasets for the presence of chlorophyll in the Great Barrier Reef. The data are displayed on an interactive coloured map, with transect and coastal options for each type of dataset. A number of other parameters, including area and season, can also be selected. Graphs can be generated and the data downloaded.
Acknowledgements: Copyright Education Services Australia Ltd.
Key learning objectives

Students interrogate chlorophyll-monitoring datasets.
Students pose their own questions for investigation.
Students generate graphs and collect data for further analysis, considering trends and identifying relationships between factors.
Educational value

The Australian Institute of Marine Science (AIMS) has monitored chlorophyll concentrations in the waters of the Great Barrier Reef since 1999, regularly sampling transects and coastal stations along the length of the reef. The data collected have shown that concentrations of chlorophyll in the Great Barrier Reef are generally lower than in other coastal areas of the world. However, the levels do vary in different areas of the reef, and tend to be greatest closest to shore. Long-term trends are still be investigated.
Run-off from agriculture together with soil erosion and discharges of sewage and other waste leads to increased amounts of nutrient in the ocean. Phytoplankton use these nutrients as a food source, and rapidly increase in numbers. As their population size increases, there is an increase in the total amount of chlorophyll in a sample of sea water containing these phytoplankton. The concentration of chlorophyll of the water can be measured to provide an indicator of increased nutrients in the area.
AIMS works in the area of tropical marine science. Its research findings help to inform the best ways to support and manage tropical marine environments. The Great Barrier Reef World Heritage Area and the Ningaloo Marine Park in Western Australia are two of the main focus areas.
Year level

5; 6; 7; 8; 9
Topics

Time series
Learning area

Science
Strand

Science
Rights

© Education Services Australia Ltd 2011 (except where otherwise indicated). You may copy, communicate and adapt this metadata for non-commercial educational purposes provided you retain all acknowledgements associated with the material.