'Breach at Gate Pä, April 30, 1864'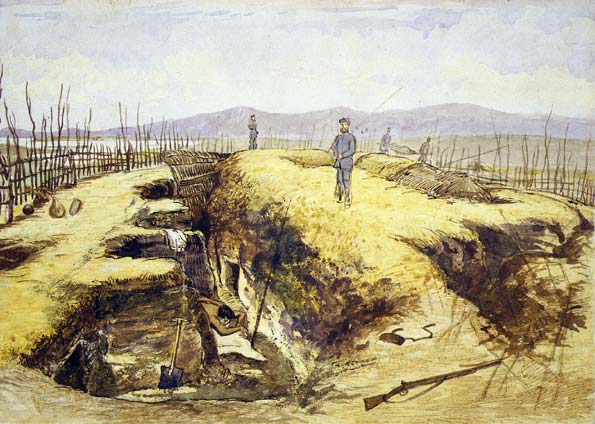 Further information is available for this resource.

Description
This is a watercolour created by Lieutenant Horatio Gordon Robley showing Pukehinahina or Gate Pä at Tauranga, New Zealand, on the morning of 30 April 1864. Two British soldiers are standing guard over the scene. In the background two figures are carrying someone away on a stretcher. A slain Mäori defender lies in the trench in the foreground. A discarded musket also lies in the foreground, while other items scattered around the scene include a shovel, several gourds, ammunition cartouche and a spear. A flimsy palisade rings earthworks consisting of a raised position with a horseshoe- shaped trench with firing positions cut into it. There is evidence also of bunkers within the trench. Tauranga Harbour can be seen in the distance. The watercolour measures 17.8 cm x 25.5 cm.
Acknowledgements