Home
Print Page

Federalism poster,
c1895
This is a colour lithographic poster satirising the initiatives towards Federation in Australia that were taking place in 1895. The central image of the poster is of nine men standing on a map of Australia. At centre right, the New South Wales premier George Reid is warning six of the figures, 'DON'T BE IN SUCH A HURRY, GENTLEMEN!'. Two figures are either 'disqualified' or standing apart. The poster purports to be an advertisement for an Art Union or lottery and the various prizes on offer are outlined around the map. The poster measures 47.5 cm x 76.0 cm.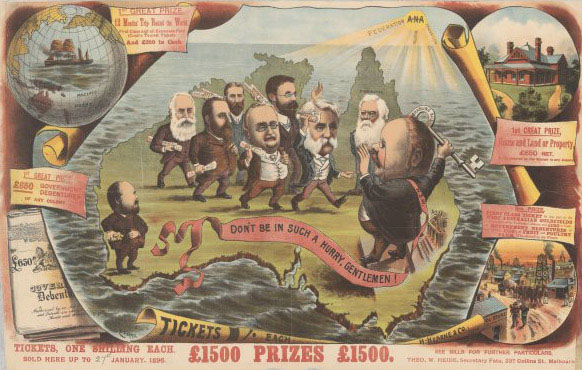 Acknowledgements
Credits:
Reproduced courtesy of National Library of Australia
Creator:
E Ferris, illustrator, 1896
H Hearn and Co, printer, 1896
Identifiers:
TLF resource R8048
National Library of Australia number nla.pic-an7900896
Source:
National Library of Australia, http://www.nla.gov.au


unless otherwise indicated.
© 2016 Education Services Australia Ltd, except where indicated in Acknowledgements.
Conditions of use