Print Page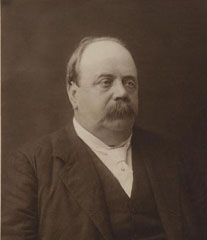 Image title
:
Sir George H Reid
Source
:
National Library of Australia
Image ID
:
nla.pic-an12267435
Creator
:
Swiss Studios
George Reid
(1845–1918)
Premier of New South Wales and prime minister of Australia
Reid came to Australia from Scotland with his family. He worked as a public servant, studied law and then entered parliament. He was smart, and spoke in a slangy way which made him very popular.
He was a free-trader and criticised the leader of the Free Trade Party, Henry Parkes, for still putting some duties on imported goods. When Parkes brought back a constitution from the 1891 Convention, Reid attacked it. He said it was a danger to New South Wales, and undemocratic. When he became premier in 1894, he supported a fresh approach to Federation, with the people electing delegates to the Convention. He was still unhappy with the constitution it produced but said he would vote for it. Barton and the other federalists hated him for this 'Yes-No' approach.
Reid led the Free Trade Party at the first federal elections and came close to beating Barton and the protectionists, who wanted to put duties on imported goods. He was prime minister briefly in 1904–5. Protection became the national policy and Reid retired from politics.
He became Australia's first high commissioner in London.
Find out more




unless otherwise indicated.
© 2016 Education Services Australia Ltd, except where indicated in Acknowledgements.
Conditions of use