Home
Print Page

Cartoon lampooning George Reid's attempt to become PM,
c1904
This ink-and-wash cartoon presents an interpretation of the attempts of (Sir) George Reid to gain office as the fourth prime minister of Australia. Reid is depicted climbing two ladders, one labelled 'YES', the other 'NO'. A label on the solid stone wall reads 'OFFICE'. He is represented as obese and the ladders as decrepit, the rungs on which Reid is standing sagging under his weight. He is wearing a top hat and waistcoat, and his sleeves are rolled up. The cartoon is signed 'BD' and measures 33.2 cm x 27.7 cm.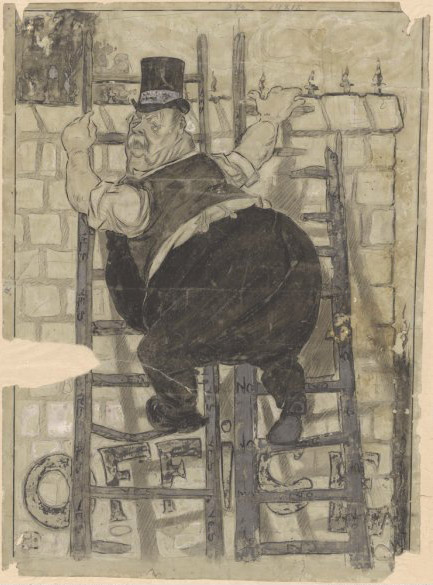 Acknowledgements
Credits:
Reproduced courtesy of National Library of Australia
Creator:
B D, illustrator
Identifiers:
TLF resource R8046
National Library of Australia number nla.pic-an6222070
Source:
National Library of Australia, http://www.nla.gov.au


unless otherwise indicated.
© 2016 Education Services Australia Ltd, except where indicated in Acknowledgements.
Conditions of use