Home
Print Page

First federal convention,
1891
This is a black-and-white engraving of almost all the 45 delegates – seven from each of the Australian colonies and three from NZ – to the 1891 National Australasian Convention held in the Legislative Assembly chamber of the New South Wales Parliament in Sydney from 2 March to 9 April. The white-bearded man standing at centre right is the then premier of NSW and president of the Convention, Sir Henry Parkes. This engraving appeared in the Sydney Daily Mail newspaper.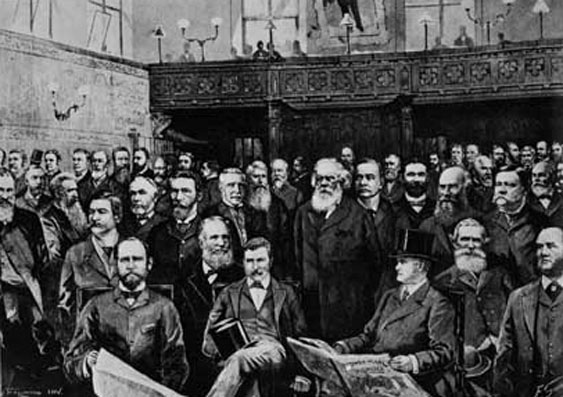 Acknowledgements
Credits:
From the collection of the National Archives of Australia
Creator:
Daily Mail, publisher
Identifiers:
TLF resource R8035
National Archives of Australia number A6180, 30/11/83/23
Source:
National Archives of Australia, http://www.naa.gov.au


unless otherwise indicated.
© 2016 Education Services Australia Ltd, except where indicated in Acknowledgements.
Conditions of use