Home
Print Page

Federal Convention, 1897 – item 1
This is a large black-and-white photograph taken on 29 March 1897 of the 50 delegates (and the clerk of the South Australian Parliament) who took part in the first session of the Australasian Federal Convention held in Adelaide from 22 March to 23 April. The delegates represent five of the six Australian colonies. The Convention's president, Charles Kingston, premier of South Australia, is seated in the middle of the front row. The silver gelatin negative of this photograph measures 37 cm x 49 cm.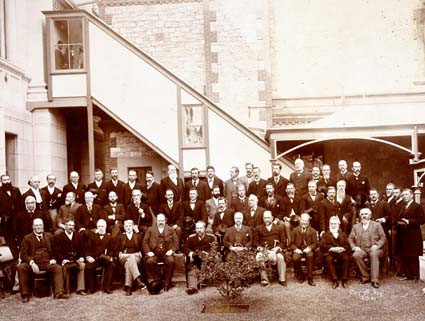 Acknowledgements
Credits:
From the collection of the National Archives of Australia
Creator:
J McCann, photographer, 1897
Identifiers:
TLF resource R8036
National Library of Australia number B5658, 1
Source:
National Library of Australia, http://www.nla.gov.au


unless otherwise indicated.
© 2016 Education Services Australia Ltd, except where indicated in Acknowledgements.
Conditions of use