Home
Print Page

Advertisement for WA Federation referendum,
1900
This is an advertisement produced ahead of a referendum in the colony of Western Australia on 31 July 1900. Giving voter registration information, it urges West Australians to agree to form a Federation with the other Australian colonies. A map of Australia highlights how WA is the only colony yet to agree. It suggests that there will be economic benefits from completing the union, and possible negative economic consequences in not doing so. The map also shows a proposed railway between WA and South Australia.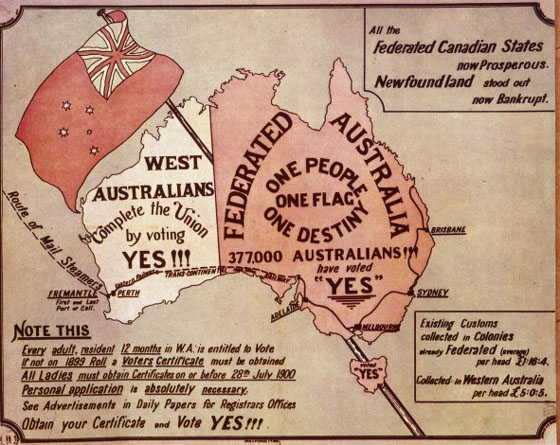 Acknowledgements
Credits:
Reproduced courtesy of National Library of Australia
Creator:
Unidentified
Identifiers:
TLF resource R8069
National Library of Australia number nla.pic-vn3302372
Source:
National Library of Australia, http://www.nla.gov.au/

Back


unless otherwise indicated.
© 2016 Education Services Australia Ltd, except where indicated in Acknowledgements.
Conditions of use