Print Page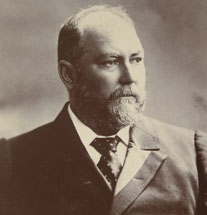 Image title
:
Sir John Forrest
Source
:
National Library of Australia
Image ID
:
nla.pic-an21399820-40
John Forrest
(1847–1918)
Federalist and premier of Western Australia
More than any other Australian politician, John Forrest was the leader of his colony. He was born in it, had explored it and became its first premier in 1890. He was a big man, not very clever, but honest, good at his job and a great believer in Western Australia. He was a conservative who supported many changes so that his colony could become more advanced like the rest.
Forrest supported Federation, but was worried that his colony would suffer when the duties on goods from the eastern colonies had to be removed. Many of his supporters from the old farming areas were totally opposed to Federation. The diggers on the new goldfields, already unhappy with Forrest's rule, wanted Federation. They said if Forrest did not let them vote on it, they would separate from Western Australia and join Australia.
Forrest had got some special terms for his colony, and when it was clear that he could not get any more, he did allow a vote on Federation. The colony voted 'Yes'. Forrest was elected to the Commonwealth Parliament and became minister of defence in Edmund Barton's government.
Find out more




unless otherwise indicated.
© 2016 Education Services Australia Ltd, except where indicated in Acknowledgements.
Conditions of use