Print Page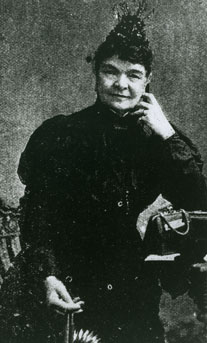 Image title
:
Mary Lee
Source
:
State Library of South Australia
Image ID
:
B 58378
Mary Lee
(1821–1909)
Feminist and trade unionist
Lee was an Irish widow who had seven children. When one of her adult sons in South Australia took ill, she sailed from Ireland to Adelaide to care for him. She remained there and in her sixties began campaigning for women's rights.
Her first victory was a new law to protect young women, which made it illegal for a man to have sex with a girl under 16. The big cause that she hoped would open the way to a better deal for women was votes for women. She was a founder of the Women's Suffrage League and became its secretary, the hardest working member. In 1894, the South Australian parliament passed an Act giving women the vote. (The Act became law in 1895, after Queen Victoria gave it her Royal Assent.) South Australia was the first Australian colony to extend the vote to women.
Lee knew that working women needed special protection. She formed a women's trades union and visited factories to get bosses to pay their women workers more.
She did not have much money. After the victory of votes for women, a collection was taken up to support her. The premier handed over the money on her 75th birthday. But her last years were spent in poverty.
Find out more



unless otherwise indicated.
© 2016 Education Services Australia Ltd, except where indicated in Acknowledgements.
Conditions of use