Home
Print Page

Sketch for a Tom Roberts painting
This is a black-and-white photograph of a colour oil sketch made by the celebrated Australian artist Tom Roberts (1856–1931) at the opening of the first Federal Parliament in Melbourne's Royal Exhibition Building on 9 May 1901. It shows the grandeur and formality of the scene in impressionistic style. The faces of the subjects are generally not recognisable, although the figure at the front of the stage is clearly the Duke of Cornwall and York (later King George V).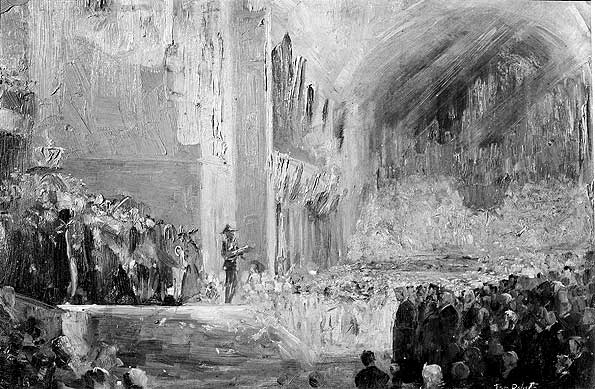 Acknowledgements
Credits:
From the collection of the National Archives of Australia
Creator:
Tom Roberts, artist, 1901
Identifiers:
TLF resource R2212
National Archives of Australia number A1200, L13366A
Source:
National Archives of Australia, http://www.naa.gov.au


unless otherwise indicated.
© 2016 Education Services Australia Ltd, except where indicated in Acknowledgements.
Conditions of use