Background
Refer to the discussion in Activity 1 about creating a likeness or description of a person, and about how artists created the backgrounds for the portraits.
Ask students to think about meaningful objects, events, people or occasions in their own environment. Have them record their ideas.
These could include items such as:
playing tennis
having fun with a pet
their home
snuggling in bed on a cold morning
sitting in a favourite chair to read a book
being with friends in the backyard
music
feeling excited when the footy team wins
diving into a wave on holiday at the beach.
Music lover
Show students the line drawing portrait Music lover
In this drawing, details of the person's face, hair and dress are described in line. This technique is called line drawing. Each line describes something about their individual likeness even though it is not a realistic representation as in the style of da Vinci's Mona Lisa.
In the drawing, the artist has not used any tone or shading and has simplified the shapes. This style is called abstract. In some abstracted artworks, the subject matter is not recognisable, or the work is made using only shapes, lines and colour.
Landscape at Pentecost
Discuss with students Landscape at Pentecost by Grace Cossington Smith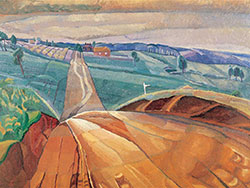 Landscape at Pentecost, 1929
From the collection of the Art Gallery of South Australia, Adelaide. South Australian Government Grant 1981.
Artist: Grace Cossington Smith
Ask the students what they observe about the painting.
Are the parts of the landscape recognisable? Which parts?
What style has been used by the artist in this painting?
How has colour been used in the painting to show the details in the landscape, such as the grass and the trees?
What visual devices has the artist used?
Line drawing
Ask the students to revisit the thoughts recorded previously in response to personal environment and draw a pencil (2B–6B) outline of an image (representational or imaginary) that represents these ideas and feelings.
For example, they could draw:
a tennis racquet
the pet
the front door of their home
a rug on their bed
the chair or book
shoes of friends
rhythmic lines
a waving football team scarf
waves.