Print Page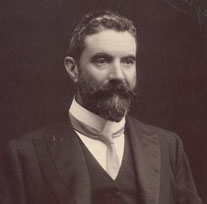 Image title
:
Sir Alfred Deakin
Source
:
National Library of Australia
Image ID
:
nla.pic-an23302036
Alfred Deakin
(1856–1919)
Second prime minister of Australia; Federation leader
Deakin was the second prime minister of Australia. He led the Federation movement in Victoria. Only Edmund Barton worked harder to create the new nation.
Alfred Deakin was very religious. As a young man, he stopped going to church because he could not believe in Christianity, but he remained fascinated by spiritual matters. He felt that God wanted Australia to be a nation and that he was doing God's will in working for Federation.
Deakin was clever, handsome and a wonderful speaker. He studied law at Melbourne University but at 22, almost by accident, he became a politician and very soon the leader of the reformers in the Victorian parliament. He was very good at politics, though he kept thinking he would give it up and become a writer or a preacher.
As protectionist prime minister, with the support of the Labor Party, he encouraged Australian industry with tariffs; set decent wages for workers though the Arbitration Court; and planned an Australian navy. As Labor grew stronger, he combined with all other non-Labor politicians in 1910 to form the Liberal Party.
Find out more




unless otherwise indicated.
© 2016 Education Services Australia Ltd, except where indicated in Acknowledgements.
Conditions of use