Home
Print Page

Portrait of Alfred Deakin,
1886
This is a black-and-white lithographic print of a drawing of Alfred Deakin, at the time a Victorian politician and later Australia's second prime minister. It was published in a supplement of the Daily Telegraph in Sydney on 20 February 1886, with the caption: 'YOUNG AUSTRALIA. VICTORIAN MEN OF THE TIME'. The drawing is in effect a portrait of Deakin, with his head much larger than his body. The print measures 34.3 cm x 21.6 cm.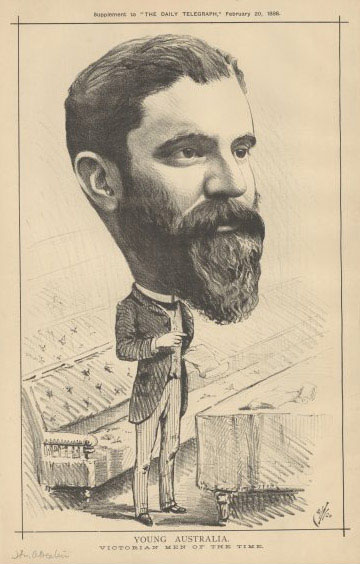 Acknowledgements
Credits:
Reproduced courtesy of National Library of Australia
Creator:
Daily Telegraph, publisher, 1886
Identifiers:
TLF resource R8051
National Library of Australia number nla.pic-an10992565
Source:
National Library of Australia, http://www.nla.gov.au


unless otherwise indicated.
© 2016 Education Services Australia Ltd, except where indicated in Acknowledgements.
Conditions of use