Home
Print Page

Federal Convention, 1897 – item 2
This is a black-and-white photograph, taken inside the chamber of the House of Assembly of the South Australian Parliament, of delegates attending a session of the Australasian Federal Convention. The delegates are assembled on either side of the high-walled chamber. This is one of about 25 photographs, 21 cm x 25 cm or smaller, published in the book 'Souvenir of the inauguration of the Australian Commonwealth'. It appears on page 16.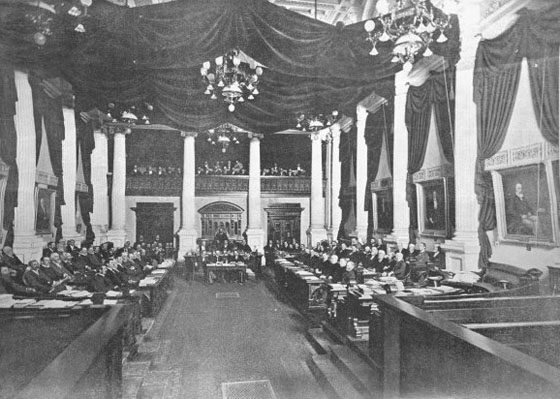 Acknowledgements
Credits:
Reproduced courtesy of National Library of Australia
Creator:
Unidentified
Identifiers:
TLF resource R8058
National Library of Australia number nla.pic-an13117586-5
Source:
National Library of Australia, http://www.nla.gov.au


unless otherwise indicated.
© 2016 Education Services Australia Ltd, except where indicated in Acknowledgements.
Conditions of use