Home
Print Page

John Forrest's 1874 expedition
This is a 52.5 cm x 69 cm, black-and-white photoengraving, of John and Alexander Forrest, James Sweeney, James Kennedy, Tommy Windich and Tommy Pierre with their horses after crossing the Great Victoria Desert in 1874. On the far right is the Overland Telegraph Line, about 120 kilometres north of Coober Pedy in South Australia. One man points to the telegraph line and the other five have their arms raised in jubilation, two waving their hats and one holding up his gun. The image was drawn from descriptions of the scene.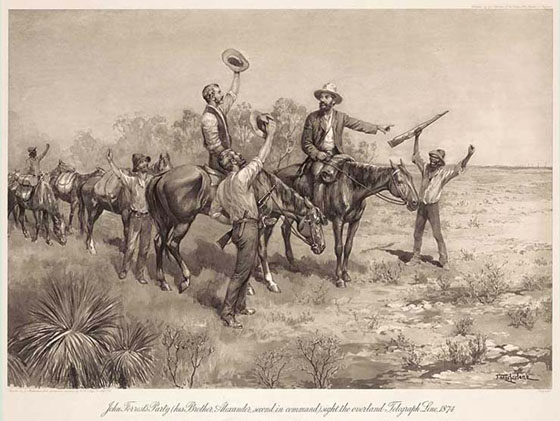 Acknowledgements
Credits:
Reproduced courtesy of National Library of Australia
Creator:
J Macfarlane, artist
George Robertson and Co, publisher
Identifiers:
TLF resource R3345
National Library of Australia number nla.pic-an9025855-6
Source:
National Library of Australia, http://www.nla.gov.au


unless otherwise indicated.
© 2016 Education Services Australia Ltd, except where indicated in Acknowledgements.
Conditions of use