Home
Print Page

Portrait of John Forrest, explorer of Western Australia,
1874
This is a black-and-white photographic portrait of the Western Australian surveyor and explorer John Forrest holding a rifle, dressed in the clothes he wore in the field, shown against a painted backdrop. The photograph measures 18.7 cm x 13.0 cm on a mount measuring 29.6 cm x 21.8 cm and its title comes from an inscription on the reverse. The printed inscriptions on the front read, from left to right, 'Talma & Co.', 'Talma type', '119 Swanston St. and at Sydney'. The portrait is signed 'John Forrest, 1874' in ink.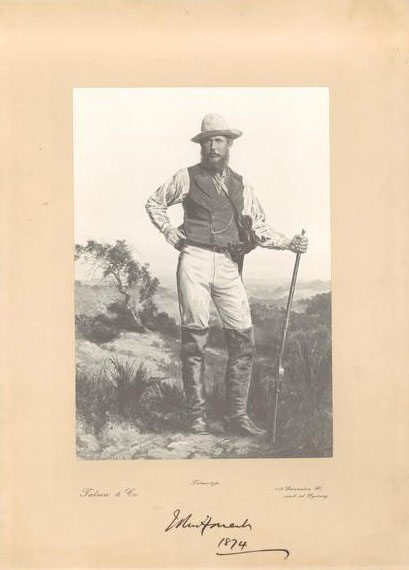 Acknowledgements
Credits:
By permission of the National Library of Australia
Creator:
Talma and Co, photographer, 1874
Identifiers:
TLF resource R7517
National Library of Australia number nla.pic-an23382380
Source:
National Library of Australia, http://www.nla.gov.au/


unless otherwise indicated.
© 2016 Education Services Australia Ltd, except where indicated in Acknowledgements.
Conditions of use